The BBC Good Food Show is a food festival held within the Uk at different times of the year. Its a chance to discover new products and flavours, whilst watching chefs demonstrate their talents live on stage.
I visited the BBC Good Food Show (Summer) at the NEC in birmingham on the Friday the 17th of June.
With over 200 exhibitors including local produce and home baked goods, there was so much to chose from!


What did I watch?
We had booked tickets to watch Alan Titchmarsh and Mary Berry in the supertheatre at 1.00pm
Which meant we had all morning to browse, have some brunch and then enjoy the show.
Alan and Mary were welcomed onto the stage by a cheery presenter and then the two created one of Mary's summer fish dishes live on stage.
Taken from the cook book
"Mary Berry : Foolproof cooking"
Mary baked salmon fillets coated with a cream cheese spread and then arranged some red peppers over the top.
Accompanied by a broad bean, fresh pea and asparagus salad, this is where Alan Titchmarsh gave his knowledge on growing greens and the best herbs to use.
After the dish was served there was a small amount of time to ask the duo a few questions, luckily enough for me I was picked!
I asked Mary what her favourite cake to make was and why....I already knew the answer to this but my heart was pounding and my tummy was fluttering at the sheer thought of talking to my role model.
She of course replied "Lemon drizzle as it simple and my favourite, it gets everyone round the table. In fact only yesterday I made it for a friends garden party."
Looking back now I wish I had asked something like "Whats the best cake for summer?" or "What vegetables work best in cakes?" as it was the BBC Good food SUMMER show after all....but I was so nervous!
What I tried? My favourites.
Belvoir fruit farms exhibited many of their cordials, I opted for
Elderflower and Rose Cordial
which is a lightly flavoured drink with a wonderful pink hue. However I felt without the fizz that a presse drink would have, it tasted rather dull. Therefore I tried the presse version instead, this was (in my opinion) much more exciting and sophisticated than the cordial.
The next stall that caught my attention was an apple stand!
Jazz apple
belongs to the cultivar of scifresh and is a cross between a Royal Gala and a Braeburn. The brand were handing out free samples, selling three apples for a £1 and a unique apple cutter to achieve perfect slices.
The apple itself was hard and crisp, almost like it had come straight out the fridge. But it was incredibly juicy at the same time.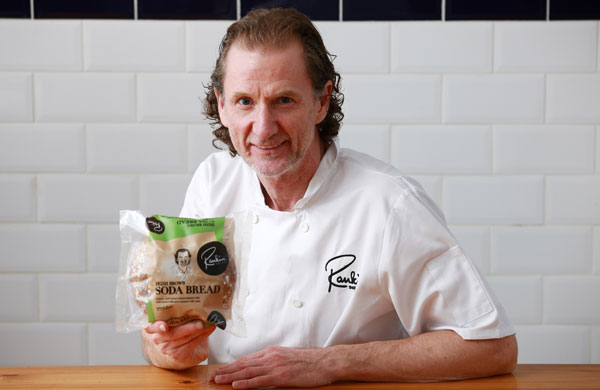 Next I have to mention the
Rankin selection stand
which filled the aisle with the mouth-watering aroma of freshly baked soda bread. They offered two of their breads to sample and Paul Ramkin was there himself signing leaflets.
I bought the Irish brown soda bread, which is delicious toasted or topped with cream cheese.
Another one of my favourite stalls was the
munchy seeds
stall, a brand which sells toasted seeds with a difference. They are highly nutritious and perfect for snacking and baking. We sampled the
super berry mix
and the
honey seeds mix
.
We then we went on to buy the 160g tub of honey seeds.
These seeds are great in plain natural or greek yogurt and I plan to use them for my flapjacks and muffins.
Who did I meet?
Okay so you already know I manged to meet Paul Ramkin but who else did I get the chance to come face to face with?
Stephen Trigg!
The Bake off creme de la creme contestant and chocolatier. His company
Lauden Chocolate
had their own stand at the show.
My mother and I had a lovely chat with him about his time on the competition and tasted some of the samples.
They were selling packs of chocolate and a few of their bars.
Stephen kindly replaced the raspberry flavoured chocolate out of the pre-packed selection, with a sour cherry flavour mmmm.
Finally, (saving the best till last) at 2.45 pm. I queued up to get my book signed by the one and only Mary Berry.
She signed my "Mary Berry's Baking Bible" which originally came out in 2009 but was updated last year.
It is one of my favourite baking books but now it is my most treasured.
So in summary I learnt a lot and tried a lot! Plus I am now subscribed to the BBC Good Food magazine and would recommend the show to any british food fanatics.